Blak Ryno Blast Vybz Kartel Says Worl'Boss Took His Money – Urban Islandz
Blak Ryno Blast Vybz Kartel Says Worl'Boss Took His Money – Urban Islandz
70
Blak Ryno put Vybz Kartel on blast while accusing the Worl'Boss taking his money.
The Garrison deejay and Kartel are not on speaking terms, and it appears that they will not be making peace anytime soon. A few days ago, Blak Ryno made a post on Instagram and later deleted it. In his rant, he went f on his former mentor, Vybz Kartel for taking his money that he had saved to buy a house for his mother and then laughed about. It appears that incident formed the catalyst that led to Ryno leaving Gaza.
It's been a decade now since Blak Ryno left Portmore Empire following a bitter falling out with Kartel. The deejay is now addressing criticism from some loyal supporters the Gaza who are calling him ungrateful for not crediting the incarcerated deejay for the success his career.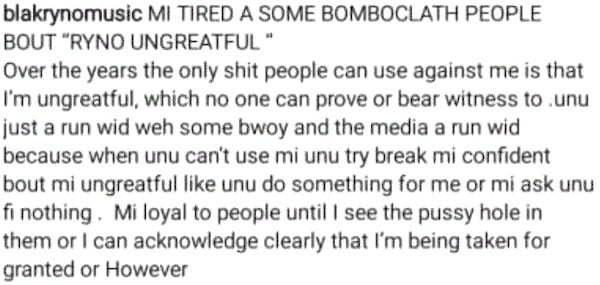 "MI TIRED A SOME BOMBOCLATH PEOPLE BOUT "RYNO UNGREATFUL" Over the years the only sh*t people can use against me is that I'm ungreatful, which no one can prove or bear witness to," Ryno wrote. "Unu just a run wid weh some bwoy and the media a run wid because when unu can't use mi unu try break mi confident bout mi ungreatful like unu do something for me or mi ask unu fi nothing . Mi loyal to people until I see the pussy hole in them or I can acknowledge clearly that I'm being taken for granted or However."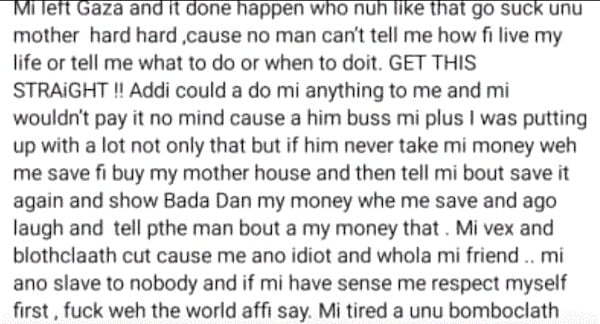 "Addi could a do mi anything to me and mi wouldn't pay it no mind cause a him buss mi plus I was putting up with a lot not only that but if him never take mi money weh me save fi buy my mother house and then tell mi bout save it again and show Bada Dan my money whe me save and ago laugh and tell pthe man bout a my money that," Ryno continues. "Mi vex and blothclaath cut cause me ano idiot and whola mi friend."
Blak Ryno is clearly frustrated with the attacks coming at him from the Gaza fans.